Shocking revelations are emerging from the sitting of the House of Representative ad-hoc committee investigating the disappearance, sudden reappearance and reinstatement of former chairman of the Presidential Task Force on Pensions Reforms (PTFPR), Abdulrasheed Maina.
Accordign to Order Paper, the online national assembly newspaper, Chairman of the Federal Civil Service Commission, Mr. Joseph Akande, told the hearing that Attorney General of Federation and Minister of Justice, Abubakar Malami, virtually blackmailed the Service into re-absorbing Maina, who eloped from the country after being declared wanted over allegations of multi-billion naira pensions fraud.
Mr. Akande said the commission's refusal to yield to Malami's memo resorted to blackmail as the AGF threatened that as the number one law officer of the country, the commission could not turn down his directive.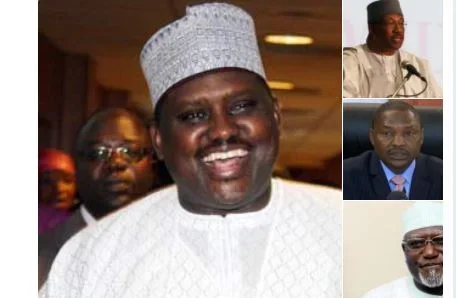 Mrs. Winifred Eta-Oyo, Head of Service of the Federation, also told the committee that she only learnt of Maina's reinstatement and promotion through the media as there was no way she would have approved any request to that effect.
Mrs. Winifred Oyo-Eta said categorically that she never acted on the letter requesting the reinstatement of Maina which emanated from the Attorney General's office based on a request from the Ministry of Interior.
Abubakar Malami, attorney-general of the federation (AGF), on his part said the letter on the reinstatement of Abdulrasheed Maina, former chairman of the presidential task force on pension reform, could not have emanated from his office.