The lady involved in an alleged marriage scandal with the overseer of the Omega Fire Ministries, Johnson Suleman, Stephanie Otobo has said that her affair with the cleric involved a lot of sex.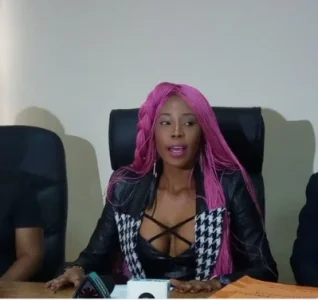 Stephanie Otobo, speaking at a press conference in Lagos on Friday, said she spent time with Mr. Suleman in Naples, New York, and Lagos.
"Most of the times we spent together, we had sex," Ms. Otobo told journalists.
"I refused to have a party with him because I'm not a lesbian and I don't like women touching me.
"He told me he did that with all his past girlfriends that I was the only one (who refused), that it's very rude that I can do that to him."
On Friday, inside Mr. Keyamo's Lagos office, journalists pressed her for more evidence – an incontrovertible one like bank statements, phone records, messages.
After Ms. Otobo had said she had more explicit photos of Mr. Suleman, including one he was holding his joystick, a reporter asked her the size of Mr. Suleman's manhood and to rate his performance in bed.
"Is it big? Is it small?" the reporter elucidated, about the size.
"Well…it's not very small, it's an average size," Ms. Otobo responded.
"He's very good (in bed), he likes to end it off on the back, on your back all the time, I don't know why.
"And also, even while sleeping, he doesn't wanna stop, he's dozing off he goes 'continue,' I go 'Daddy, you're sleeping.' He doesn't wanna stop; he wants to keep going while sleeping."
"We were in New York together, two months after I left Napoli. Then he invited me to Nigeria. We were always having sex," she said.
"In Nigeria, we stayed at Protea Hotel in Ikeja. there's another hotel after Airport Hotel; there's a gas station, there's a new hotel on your right, that's where he gave me something to drink. I thought it was juice, he brought it, he said let's drink together, and then he didn't want to drink, he wanted to eat.
See video below: