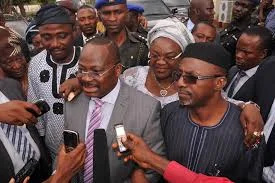 Oyo State Governor, Senator Abiola Ajimobi, has told residents of the state to be prepared to pay for the refuse being generated daily, insisting that the regime of spending tax payers' N30 million monthly for refuse disposal has ended immediately.
The governor said the policy shift became necessary following his observation that the state was gradually returning to the old order when it was adjudged one of the dirtiest state capitals in the country.
He read the Riot Act while speaking at a meeting with refuse collectors, local government chairmen, environmental sanitation officers and management of West African Energy, a waste-to-wealth contracting firm, at the House of Chiefs, Ibadan, on Wednesday.
Ajimobi said the new policy was targeted at sustaining the environmental cleanliness credentials of his administration, as well as employment generation and wealth creation.
The governor said: "We are here because we are not happy with the state of our environment. We feel appalled by the condition of our environment and it's now that we will have to act.
"We enforced a zero tolerance against filthy environment at the inception of our administration and we were praised for it. But we have discovered that many people want to take us back to the time when Ibadan was called one of the dirtiest cities in the world.
"We have decided to change our approach and start generating money from refuse. We will no longer spend N30 million monthly on refuse disposal. We believe this had encouraged the culture of impunity on refuse disposal.
"Our people should now be prepared to play a part in refuse management by paying for refuse being generated as being done in other climes. Not only are we going to make money from it, we will generate employment and create wealth for the people."
Source: The Vendor