Nigeria's midfielder, John Mikel Obi today announced his move to Chinese club, Tianjin Teda. The Nigerian midfielder who spent 11 years at Chelsea have had what could be called a remarkable career at Chelsea.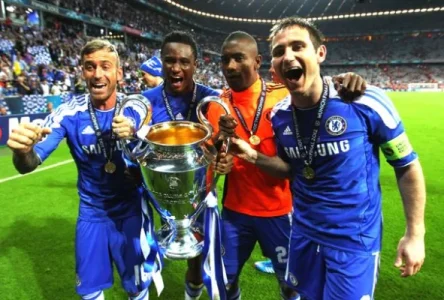 Below are 11 things Chelsea fans will not forget about him.
1. Transfer saga
Mikel joined Chelsea in 2006 after a controversial transfer from Norwegian side Lyn Oslo. After Manchester United had announced the capture of Mikel on its website, Chelsea came at the last hour to sign the then promising talent.
2. Trophies
The midfielder has made 374 appearances for Chelsea, winning 11 trophies along the way. Premier League: 2009–10, 2014–15, FA Cup: 2006–07, 2008–09, 2009–10, 2011–12, League Cup: 2006-07, 2014-15, FA Community Shield: 2009, UEFA Champions League: 2011–12, UEFA Europa League: 2012–13.
3. Pass accuracy
In his first three years at Chelsea, he had the highest pass completion in the Premier League, boasting an impressive 89.93%. That's even better than the likes of Liverpool's Steven Gerrard or Man United's Paul Scholes.
4. Loyalty
Mikel, before departure is the second-longest serving player at Stamford Bridge. Mikel made just 18 appearances for Chelsea last season and has been used in a substitute role increasingly over the last few years.
5. Red cards
Chelsea fans will not also forget quickly the times Mikel has been sent off the pitch of play. In 2007, Mikel was sent-off for the third time in his one year Chelsea career when referee Mike Dean dismissed him for a tackle on Manchester United defender Patrice Evra.
6. 2011-2012 season opener
Before the start of their league campaign, Mikel's father was abducted in his native Nigeria on 10 August; despite this, Mikel started in the club's opening fixture against Stoke City at Britannia Stadium.
7. Threat to referee
In 2012, Mikel was charged with misconduct by the Football Association (FA) on 22 November 2012. He was given a three-match ban and fined £60,000 for threatening referee Mark Clattenburg during a 3–2 defeat to Manchester United.
8. Dreadlock
Just like his African counterpart, Michael Essien, Mikel had been on dreadlocks for a very long time at Chelea.
9. 2016 summer Olympics
This many believed to be the major cause of his inability to break into Antonio Conte's side. Mikel opted to play for his country Nigeria ahead of playing for Chelsea.
10. On 19th May 2012, in the final in Munich on 19 May, Mikel played the full 120 minutes in a tough defensive battle as Chelsea won its first ever Champions League trophy.
11. As a fan of football, what exactly do you remember about his playing career at Chelsea?
Last edited: