All passengers on board a hijacked Libyan plane in Malta have been released.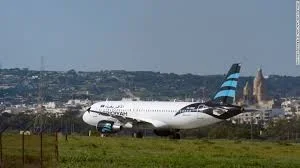 READ:
Libyan Plane Hijacked
Prime Minister Joseph Muscat announced the release of all passengers to newsmen. He said there were 111 passengers and seven crew members on board the Afriqiyah Airways A320 jet that was on an internal flight from Sebha to Tripoli in Libya.
The hijackers surrendered after most to the passengers had been released; BBC reports. The seven-member crew are also believed to be have released afterwards.