No fewer than 13 persons were killed in a fatal motor accident in Ilorin, the capital of Kwara state.
The tragic incident involving one Hummer bus and a heavy loaded truck happened on Wednesday at Otte area, along Ilorin-Ogbomoso expressway.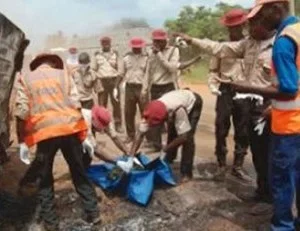 An eyewitness, whose name was not disclosed, said the accident resulted from over-speeding by the bus driver who rammed into the stationary truck and killed all the passengers in the bus.
The Commissioner of police in the state, Olusola Amore, while confirming the accident said, "a bus load of passengers coming from Kaduna ran into a stationary vehicle and all the passengers died.
"In fact, for now, the trailer has been impounded and we are working to tow the trailer. The trailer is even loaded with goods.
"So that we can get the driver and the owner of the trailer to come and answer for the way the trailer was parked before it caused the accident."