Suspected militants on Wednesday evening attacked a military houseboat and allegedly killed two soldiers at Efe-Ugbokodo area in Warri South Local Government Area of Delta State.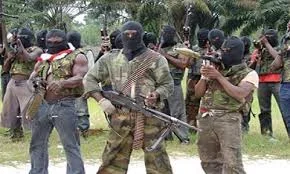 A security source, who spoke to Vanguard on phone, said the attack occurred around 6.30 p.m.
"I cannot give you details of the incident but I can confirm to you that a military houseboat was attacked by suspected militants.
"I cannot confirm the number of causalities to you right now as details of the incident is still trickling in, but am sure that later today, we would get details on the true position of things," the source added.
Vanguard learned that only two soldiers were guarding the houseboat when the militants, who understand the terrain very well struck. Majority of the soldiers were said to have gone on their different beats in the creeks and the militants studied their movement