Authorities in Southern California said early Friday that at least 20 people were arrested as protesters created havoc after a Donald Trump rally.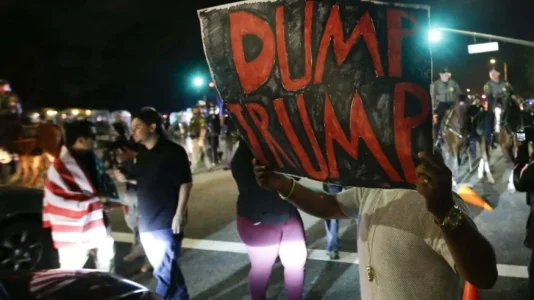 Costa Mesa police confirmed the arrests. Authorities said there were no major injuries and the big crowds had dispersed by 11 p.m. Thursday.
Dozens of protesters were mostly peaceful as the Republican presidential front-runner gave his speech inside the Pacific Amphitheater. The crowds began to get rowdy as the rally was over and demonstrators took to the streets.
One Trump supporter had his face bloodied in a scuffle as he tried to drive out of the area. One man jumped on top of a police car, leaving its front and rear windows smashed and the top dented in and other protesters sprayed graffiti on a police car and the venue's marquee.
Dozens of cars -- including those of Trump supporters trying to leave -- were stuck in the street as several hundred demonstrators blocked the road, waved Mexican flags and posed for selfies.
Police in riot gear and on horseback pushed the crowd back and away from the venue. There were no major injuries and police did not use any force. The crowd began dispersing about three hours after the speech ended.
See more Photos: