A 20-year old man was arrested at St. Oaul's Catholic Church, University of Calabar ater being caught stealing fried meat from the fridge of the parish priest.
The priest had left his house for morning mass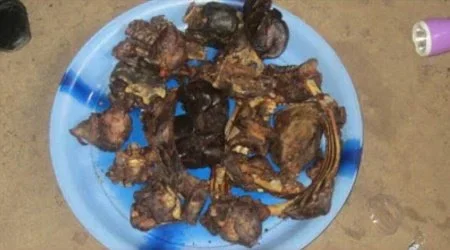 A source revealed to newsmen that the suspect was caught with bags of meat in both hands
"The young man, who claims to be a prison warden, was apprehended just as he was leaving the kitchen with bags of meat in both hands", the source said.
"Before today's incident, many other items such as washing machines, television sets, cookers, and so on have been missing from the house.
"He lives in the boys' quarters just directly behind the priest's kitchen", he added.
Confirming the incident, the Vice Chancellor of the University, Prof Zana Akpagu advised people residing in the University Staff quarters to support the efforts of the management to provide adequate security by complying with management decision of not accommodating strangers.
"Time without number, the authorities have cautioned against sheltering strangers other than family members in boys quarters, but we have refused to listen.
"It is easier for people to blame the administration for not providing adequate security, without doing their own bit.
"Last time we caught the solar light batteries' thief, it turned out that he was a nephew living with a Prof.
"Let's all do the things that help us be safe in the University. It's terrible to steal from a servant of the most high", he stated.