A convicted armed robber, Rasak Ogedengbe, 25, has been sentenced to death by hanging for stealing money, wristwatches and phones from one Mr. Chukwukekwu at a Church in Ejigbo.
The victim had gone to report at Ejigbo police station when he saw Ogedenge in the police van after the suspect had already been arrested by the police.
The police searched the polythene bag with him and found some of the valuables stolen from the victim.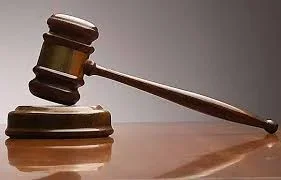 Ogedengbe did not produce any witness and also pleaded not guilty to the offence but the prosecution had called two witnesses to testify and all their evidence were taken by the court.
While delivering her judgment, the presiding judge, Hon.Justice Olabisi Akinlade said that Ogedengbe was accused of criminal conspiracy and armed robbery under Section 403 and 402 of the criminal code, law of Lagos State 2003.
She said that the prosecution has been able to prove the elements of armed robbery and conspiracy and therefore found Ogedengbe guilty of both offences.
He was therefore sentenced to death by hanging.
- Tribune Newspaper