A FCT court on Monday ordered that a 34-year-old applicant, Anthony Nnakanagu, to be given six strokes of cane for stealing four pieces of toilet tissue valued N200, NAN reports.
Nnkanagu, a resident of Airport Road, Abuja, was convicted on a two-count charge of criminal trespass and theft.
The judge, Alhaji Umar Kagarko, also ordered Nnakanagu to be of good behaviour and desist from committing crime.
Earlier, the Prosecutor, Oyeyemi Adeniyi, told the court that one Fidelis Agba attached to Bolton White hotel, Area 11, Garki, Abuja, reported the matter at the Garki Police Station on Jan. 7.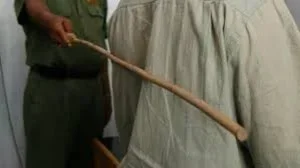 He said that the convict criminally trespassed into the said hotel, pretending to be a customer and entered one of the hotel toilets to ease himself.
Adeniyi said while the convict was in the toilet, he dishonestly stole four pieces of toilet paper valued at N200 only.
He further said that the said toilet tissue was found in the convict's possession and the offences contravened Sections 348 and 287 of the Penal Code.
Nnakanagu, however, pleaded guilty and plead for leniency.
- Dailypost