A former Head of State, Gen. Yakubu Gowon (retd.), on Thursday identified four ways corruption is affecting President Muhammadu Buhari's government.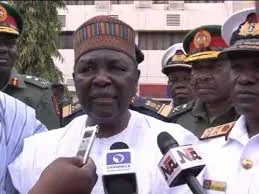 Gowon spoke at the Northern Nigeria Stakeholders' Town Hall Engagement organised by CITA- NGO at Arewa House, Kaduna.
The former Head of State noted that corruption has made governance in the country difficult (one).
He stressed further the same corruption was responsible for the deterioration of the quality of infrastructure (two), healthcare delivery (three) among others in the country.
This, Gowon said, had robbed the government of the respect and loyalty of the citizens and eroded the authority of the state (four).
Gowon stated, "Truth be told, the fight against corruption is a fight that we must overcome, we must win it and win it decisively.
"Corruption has also caused deterioration in the quality of infrastructure, healthcare delivery and education among others."
The former Nigerian leader said the current economic situation facing the country was one of the most troubling economic crisis ever.
He added, "I believe that the troubles and problems we have gone through in the past few years have helped Nigerians to see more clearly the difference between a self-sustaining economy and one that relies totally on a wasting asset such as oil."