For the first time after 50 days that President Buhari has left the shores of the country for an undisclosed ailment in London, Nigerians heard his voice - but in a language that many do not understand. Hausa language.
The audio recording, meant to bring Eid-el-Fitr tidings to his fellow Nigerians has generated controversies on Buhari's state of health and the 'presidency' barely 24 hours after its release.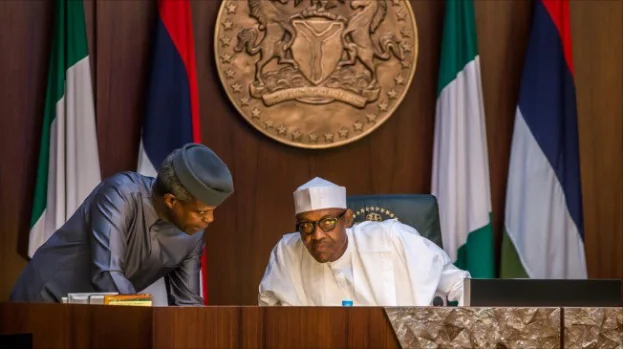 Controversies around the voice message was the hausa language Buhari's voice was recorded. The message contained in the voice recording aired by BBC Hausa service on Sunday, is the audio version of statement released by Buhari's spokesman, Garba Shehu, was to greet Nigerians on Eid-el-Fitr and also admonish on spreading 'reckless' statement.
Beyond the glad tidings that the message should bring, it has sparked more reactions, with intending negative consequences.
Portrays Buhari as a Sectional Leader
– Nigeria is not a hausa nation. President Buhari's sallah message in hausa language does not differentiate him from secessionist's leader, Nnamdi Kanu. For a nation that has its official language as English, nothing stops him from addressing the nation in English language. Tongues would have rolled if former president Jonathan ever addressed Nigerians in Ogbia, or Obasanjo in yoruba. For a nation of over 200 ethnic groups, President Buhari's hausa audio tape set a bad precedence of sectionalism, and division; and of course negates his:
'I belong to nobody; and I belong to everybody'
quote.
Frustrate Osinbajo's Peace Moves:
While President Buhari is away in Britain for an undisclosed illness, Acting President Osinbajo – who has filled in admirably for his principal – has embarked on some peace moves around the country, bringing everyone to a round-table to discuss the nation's problems, and proffer solutions to them. Buhari's hausa audio tape may have just frustrated Osinbajo's peaceful moves across the region the country.
Give Opposition a Upper Hand:
Though the opposition won't relent in its effort in criticizing the APC-led administration, president Buhari's hausa audio tape may have given them an upper hand in criticizing his administration.
No respect for Nigerians:
President Buhari's sallah message in hausa language clearly shows that he has no respect for Nigerians. For a nation that has longed to hear its president's voice after more than 50 days outside the country, the voice they now heard was an 'non-understandable' one. This clearly means the president does not respect the people that the governs.
The Message Does Not Signal Hope
– In Buhari's absence, so many things have happened in Nigeria. There are some pressing issues that demand the presidential assertion. An instance is the Arewa Youths Igbo Quit Notice. The president did not address any of these issue, but rather choose to meander around the them. No hope in sight for the pressing issues being faced in the country.