The Federal Government yesterday assured that it is working hard towards meeting the water and sanitation needs of Nigerians as parts of its efforts to achieving the Sustainable Development Goals, (SDGs) by the year 2030.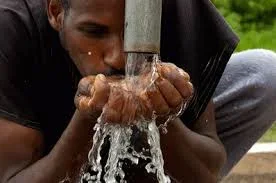 Minister of Water Resources, Suleiman Adamu, who spoke with State House correspondents after a meeting President Muhammadu Buhari, added that the country has not been able to achieve its 2015 target of 75% coverage for water supply to the populace and the target for sanitation.
The minister said, "We met the water supply by only 69%, but we did very poorly in sanitation. This 69% means over 50 million Nigerians still don't have access to portable water, and that is a huge number of people.
"We have come up with a programme, which we are going to unveil in detail at the National Council on Water Resources meeting next week. That programme is aimed at ensuring we are now able to meet the SDGs target for 2030 and there will be 100 percent access for everybody," he added.
Adamu added that the ministry has come up with a huge programme that will help to cover those gaps. The programme, he said was part of the package presented to President Buhari yesterday.
He added that the ministry's national water resource master plan was intended to identify all the key issues and projects that the ministry should undertake between now and 2030.