Jose Mourinho's arse indentations on the cushioned Chelsea bench haven't yet properly risen, and yet already talk is of who will replace him.
Joe.co.uk looked at six potential candidates to shimmy into Jose's bum grooves...
Carlo Ancelotti
They say never go back, but would going back again cancel out the maxim? Jose Mourinho's second spell may have ended unceremoniously, but another former Chelsea boss may be the ideal candidate to take over the reigns...again.
The current squad certainly isn't lacking in ability and experience, and the Italian is in his element when getting the best out of a talented collective. You have to wonder whether he would necessarily be interested in braving the revolving door once more though.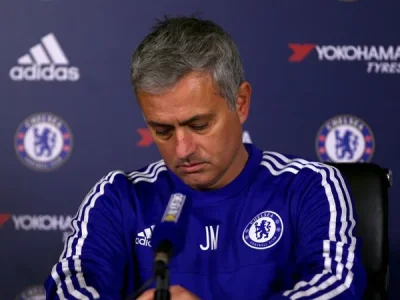 Guus Hiddink
Speaking of old frames, rumour has it that yet another old boy will take temporary charge of the troops following Mourinho's dismissal. Like Ancelotti, Guus Hiddink is currently between jobs and at the very least a 'safe' option.
But an ageing Dutchman taking over a Premier League club? Perhaps Louis van Gaal has proved England is no country for old men, and unlike his bawdy compatriot, Hiddink was a failure with the national team. Not the most inspired choice.
Pep Guardiola
If Hiddink is to take over on a purely short-term basis, could it be with a more long-term option in mind come the summer? Many feel that Bayern's Pep Guardiola is currently flirting with the idea of adding the Premier League to his CV.
Related News: Chelsea Football Club Sacks Jose Mourinho
He has long been courted by Roman Abramovich, but for reasons to do with timing and circumstance, it has never happened. Manchester City seem to be the favourites to land the Catalan maestro, but Chelsea would be mad not at least try.

Mauricio Pochettino
Perhaps Abramovich would be better advised to hunt the next Guardiola rather than the current one. A fresh face with a clear vision and expansive style. If so, then Mauricio Pochettino could be a dark horse for the Stamford Bridge hotseat.
The Argentinian has worked wonders at both Southampton and Spurs, showing himself to be a nurturer of young talent as well as a shrewd operator in the transfer market. But a fresh-faced young candidate will inevitably invite André Villas-Boas comparisons.
You can also READ - READ Chelsea's Official Statement Announcing Jose Mourinho's Sack

Diego Simeone
Another young Argentinian manager who has wowed the footballing world with his many praiseworthy achievements - more so than Pochettino - is Atletico Madrid's Diego Simeone. What he has achieved in La Liga is nothing short of remarkable.
Simeone would simplify things at Chelsea. He is canny and no-nonsense in style, and wouldn't allow for under-performing coasters in any side of his. The language barrier may be an issue, but much like a young Mourinho, his players idolise him.
Juande Ramos
Granted this is an odd one. Many will recall Ramos as the manager who won Spurs the Capital One Cup in 2008, but ultimately did little else to suggest he was good enough to lead a top side to sustained glory. His subsequent roles cement that reputation.
But the permanently troubled looking Ramos has beenheavily linked to the Chelsea job over the last two weeks, and may be seen as a reasonable sticking plaster until the club secure the services of a more coveted name. Having said that, Ramos? Really?
Source