His Royal Highness, Eheneden Erediauwa was yesterday crowned the 40th Oba of Benin Kingdom and received his staff of office from the Edo State Government.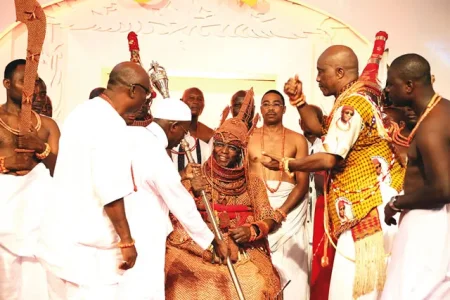 Erediauwa also announced the name he had chosen to bear as Oba Ewuare II. In his maiden address, Oba Ewuare made some promises to Benin people. Below are 6 of the promises.
1. Tradition and security: "To that extent, we shall faithfully discharge this sacred responsibility. We shall pay due attention to all matters of custom and tradition, focusing on real issues of security of our communities and the welfare and development of our people," he added.
2. Palace administration: "We shall carry out reforms in palace administration in order to be adequately responsive to our people's sincere and deep longing for justice, equity and stability.
3. Cultural diplomacy: "We shall strive to ensure that conflicts are resolved between individuals, families and communities along the principles of social justice. We shall use cultural diplomacy as a veritable tool for the promotion of harmonious relationships with our neighbours far and near."
4. Language promotion: The Oba said that having shrunk to one state from parts of Lagos, Asaba and even Dahomey, it was imperative to sustain the Benin Empire by promoting the language from one generation to the other, through its enshrinement in the school curricula.
5. Tourism: He also said that to promote tourism, through arts and crafts, two special purpose vehicles – Benin Royal Dynasty Trust and Benin Royal Academy for the Performing Arts, in collaboration with the Benin Traditional Council, had already been established.
6. Honour of late father: In honour of late father, he announced the Oba Erediauwa Annual Lecture Series, through the investment of N10m in a trust fund, adding that the proceeds would be used to support an annual and well researched ýoration on any subject in Benin history, public administration or Edo language.