60 Nigerian soldiers will today face court martial for allegedly committing mutiny on August 4, 2014 by refusing to join troops in Maiduguri for an operation.
The arraignment will take place at the Sani Abacha Barracks in Abuja.
The 60 soldiers allegedly the crime at the Mulai Primary School, opposite African Independent Television in Maiduguri, Borno State on August 4, 2014 by refusing to join "111 SF Bn troops" led by Col. E.A. Aladeniyi to Maimalari Barracks in connection with an operation.
According to PUNCH, the charge sheet revealed that the soldiers, comprising 2 corporals, 9 lance corporals and 49 privates, are to be arraigned on two counts of conspiracy to commit mutiny and mutiny.
The two corporals are Andrew Ogolekwu and Saturday Efa. See list of some other soldiers facing trial as obtained by PUNCH.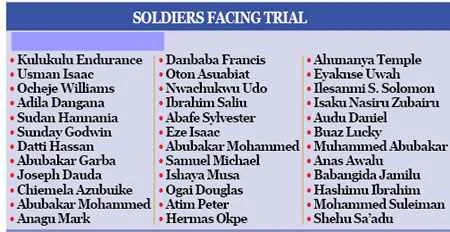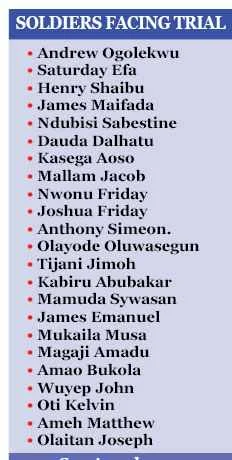 #Punch #Mutiny #Maiduguri #Abuja