Just like in many parts of the world, Christmas celebrations is always a 'big deal' for Nigerians (non-christians alike). Besides rolling out drums during carol service, partying, and exchange of gifts, there are certain customs and traditions that are unique and now associated with Nigerians for the holidays and celebrations. They are recurrent at almost every time like this during the year. They include: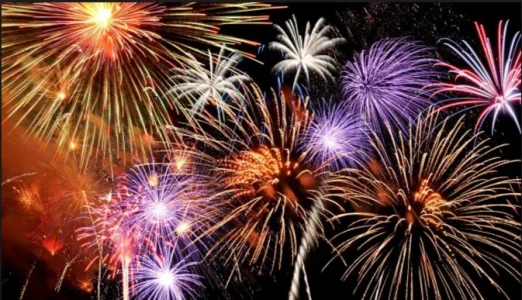 1. Christmas Carol Service:
Christmas Carol Service is one of the common rituals of Christmas in Nigeria. Besides churches, schools, business organisations and government parastatals also hold carol service. Many times than one, christmas carols are blended with end-of-the-year parties for these organisations.
2. Christmas Rice:
It has become customary for families and individuals to tag rice as the Christmas meal. It is most time the meal served to guests during Christmas. It is common to hear people say: I'll be coming to your house for Christmas rice. This is not to say that other meals are not served during Christmas but rice dominates most households. Even companies gift their workers with rice and oil before the holidays.
3. Christmas Attires:
No matter the tribe, religion or social status, Nigerians are known to go all out on shopping for the holidays, and most importantly, they select the most gorgeous of all apparels to wear on the 25th of December, the day marked out to celebrate the Christmas holiday. Some families go all out to make custom designs, identical fabrics or uniform colors for every single member of the family. In some areas, different families try to outdo each other by wearing elaborate styles when they go visiting on the day. It all adds to the holiday fun and excitement.

4. Christmas tree, decorations and exchange of gifts:
As it is done in some other countries of the world, Nigerians also decorate their apartments, offices and exchange gifts. Families put up Christmas trees in their home and drape their windows with gold balls and strings of light. The major streets and boulevards are also decorated elaborately, and major shopping malls, as well as office buildings, sparkle with Christmas lights. People also exchange Christmas-themed cards with family members, friends, and colleagues, while some celebrities and public figures go all out on photo shoots for cards which they distribute to fans and supporters, all in the spirit of the holiday.
5. Bangers/Knock-out:
Knock-out is the popular phrase Nigerians use for firecrackers and bangers. Almost every Nigerian pops some fireworks from the 1 December all through the 25th of December – Christmas day. It gets more intense on the eve of Christmas. Some churches also join the fray when they hold their christmas carol service. Especially for kids, knock-outs make the season so exciting for them.
6. Carnivals/Street Jamz:
Carnivals and street 'jamz' cannot be separated from christmas celebrations every year. It is mostly organised by the youths in a particular locality. It is always an interesting time of the year for them, as they make efforts to put up interesting moments. Carnivals/Street jamz is usually held on the eve of Christmas till Christmas day and on December 31 to the new year (January 1). These youths usually generate funds locally through voluntary contribution from themselves and members of the particular community.

7. Father Christmas Shows:
Father Christmas is Nigeria's branded 'Santa Claus' or 'Noel'. Father Christmas shows always comes with excitement and fun. Especially for kids, they are told that the Santa has arrived from Rome with lots of goodies for them. Offices, Churches also infuse Father Christmas shows into their Christmas line-up of events. For organisations, fun factories, it is a major revenue drive at this time, as people pay to see Father Christmas – who doles out gifts to them.