The National assembly will, today, resume for plenary the first time in 2017. Senate president, Bukola Saraki during the break said the Nation's assembly will expedite actions that will revive Nigeria's ailing economy.
During the break, Mr. Saraki also met with the President on more than one occasion, with the aim to align the executive agenda with that of the legislative arm. Here are activities that are likely to top the agenda of the Senate as they resume: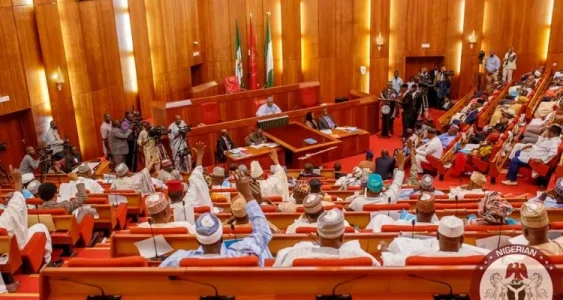 1. 2017 Budget:
Before the lawmakers took a 26-day break, President Muhammadu Buhari had presented the 2017 budget of N7.289 trillion to a joint session of the National Assembly on December 14, 2016. Saraki has consistently assured that the National Assembly would work assiduously to ensure the speedy passage of the budget in order to accelerate its implementation. So, there is the possibility of it being the top agenda of the Senate discussion today.
2. President Buhari's Loan Request:
Debate on the bid by President Muhammadu Buhari to secure a $29.96bn foreign loan will also top the agenda.
3. Southern Kaduna Killings:
On the Southern Kaduna killings, the Senate will take up the issue to find lasting solution to the wanton killing and destruction of property in the area as the situation worsens and deteriorates by the day. In the interest of peace and stability in the country, the Senate will look into the root of the problem.
4. Poor services rendered by local and foreign airlines:
The Senate may also look into the poor services being rendered by local and foreign airlines in the country.
5. Magu and Babachir Lawal's Case:
Both cases of the Secretary to the Government of the Federation, Babachir Lawal, and the Acting Chairman of the Economic and Financial Crimes Commission (EFCC), Ibrahim Magu, who have been accused of corrupt practices may be re-opened by the Senate today. President Muhammadu Buhari had in December ordered the Attorney General of the Federation, Mr. Abubakar Malami, to investigate the top officials of his administration who have been accused of corruption.
6. Made In Nigeria:
In a bid to revive Nigeria's status in Africa and her economy, the Senate will embarked on some legislative policy that will aid local content. Example of such is the Made In Nigeria Challenge by the Senate President. The Made In Nigeria syndrome may also see some legislative backing which is aimed at promoting locally made goods in the country.
7. Recession:
The Nation is on its fourth quarter economic recess. In view of this, the activities of the Nation's assembly is to seek quick passage of bills that will attend to the economic mess and take the country out.
8. Adeboye's Resignation & FRC Code:
Following the resignation of Pastor Adeboye as the National General Overseer of RCCG, and the consequent sack of the Secretary of the Financial Reporting Council of Nigeria, FRN, Jim Obazee by President Buhari, the Senate may summon the Minister of Trade and Investment, Okechukwu Enelamah on the Financial Reporting Council controversies and the repeal of the Corporate Governance Code issued by the Financial Reporting Council of Nigeria