Sixteen northern youth groups rose from a joint meeting in Kaduna on Tuesday to give Igbo residing in their states up to October 1, 2017 to vacate the region.
The youth organisations in attendance at the Kaduna meeting included Arewa Citizens Action for Change, Arewa Youth Consultative Forum, Arewa Youth Development Foundation, Arewa Students Forum and Northern Emancipation Network on the Igbo Persistence for Secession.
In a communique issued at the end of the meeting, and cited by Nigerian Bulletin, the group listed 8 provocative reasons why it gave all Igbos til October 1, 2017 to vacate all Northern regions:
1. The Igbo people of the South-East, without remorse for the carnage they wrought on the nation in the 1960s, are today boldly reliving those sinister intentions connoted by the Biafran agitation that led to the very first bloody insurrection in Nigeria's history.
2. Emboldened by the apparent indifference of the Nigerian authorities, the Igbo secessionist tendency is widening in scope and action at every stage, with adverse effects on the law-abiding people of other regions residing in or passing through the East, while the Igbo leaders and elders by their utterances and direct action or inaction appear to support and encourage it.
RELATED: Shehu Sani Reacts To Call For Ejection Of Igbos From North
- This is happening irrespective of the undisputable fact that:
3. The cruel Igbos have done and are doing more damage to our collective nationhood than any other ethnic group; being responsible for the first violent interference with democracy in Nigeria resulting in a prolonged counter-productive chain of military dictatorship.
4. The Igbos similarly orchestrated the first, and so far, the only civil war in Nigeria that consumed millions of lives and sowed the seed of the current mutual suspicion and distrust.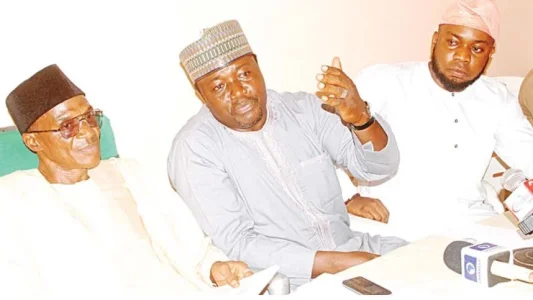 5. The Igbos are also responsible for Nigeria's cultural and moral degeneracy with their notorious involvement in all kinds of crimes, including international networking for drug and human trafficking, violent robberies and kidnappings, high-profile prostitution and advanced financial fraud.
6. At the peak of the devastating Boko Haram violence in some parts of the North, available records show that the Igbo people have variously been apprehended while attempting to convey catches of dangerous arms and ammunition to the troubled regions.
7. There are today sufficient reasons to suspect that some Igbos masquerade as Fulani herdsmen to commit violent atrocities across the country in order to cause and spread ethnic disaffection.
8. It is also on record that since the inception of the current democratic dispensation, the Igbos have shown and maintained open contempt and resentment for the collective decision expressed by majority of Nigerians at various stages via generally acceptable democratic processes.
TRENDING:
Kaduna Declaration on Igbos, Bad Signal For Nigeria - Afenifere