Ibrahim Yaqoub El Zakzaky was born on May 5, 1953 in Zaria, Kaduna State abd he is the Shi'aMuslim cleric in Nigeria, and head of Nigeria's Islamic Movement.
Nigerian forces invaded his home recently in retaliation of an alleged assassination attempt of the Army chief, which led to unverified number of casualties of the islamic Movement's followers and arrest of El-Zakzaky.
Here are some certain things you need to know about him and his movement: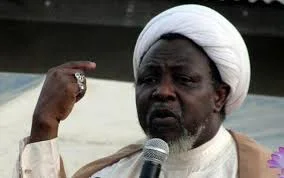 1. Zakzaky attended traditional Quranic and Islamic schools in the town of Zaria under the tutelage of scholars such as Malam Isa Madaka and Malam Ibrahim Kakaki. He attended the Provincial Arabic School, Zaria (1969-1970), Law School (now the School for Arabic Studies), Kano (1971-1975) and the Ahmadu Bello University (ABU), Zaria (1976-1979).
2. Zakzaky is fluent in English, Hausa, Persian, Spanish and Arabic languages. He has lectured in Nigeria, Iran, Lebanon, Sierra Leone, Niger, Algeria, Britain, France, Spain, the United States and Azerbaijan.
3. He became the secretary-general of the Muslim Students Society of Nigeria (MSSN) in the Main Campus of ABU (1977/78) and later Vice President (International Affairs) of the National Body of the MSSN in 1979. His activity in the society saw the conception of the Islamic Movement in Nigeria which came as an independent body since early 1980s.
Related News:
CAN Reacts To Move To List Nigeria Among 34-Islamic Nations
4. The movement has established many schools known as Fudiyyah or Fodia schools named after Shiekh Usman dan Fodio a famous 18th-century scholar and jihadist. The movement also publish newspapers and magazines in both English and Hausa languages.
5. He was described by Dr Iqbal Siddiqui as "the de facto leader of the Islamic Movement in Nigeria".
6. Zakzaky was jailed several times on charges of sedition by successive Nigerian regimes in the 1980s and 1990s.
Related: President Obama Reacts to Army, Shi'ite Clash in Zaria
7. In September 2009, Zakzaky's supporters clashed with police in Zaria, leading to injuries and deaths on both sides. The IMN accuses the government of intimidation and attempting to wipe it out.
8. On Friday 25 July 2014, Nigerian Army reportedly gunned down 35 followers of Ibrahim Zakzaky including his 3 undergraduate biological sons after pro-Palestinian procession in Zaria. The brutal murder drew world attention and world wide sympathizers which led the Nigerian Government to set up committee to investigate the action.