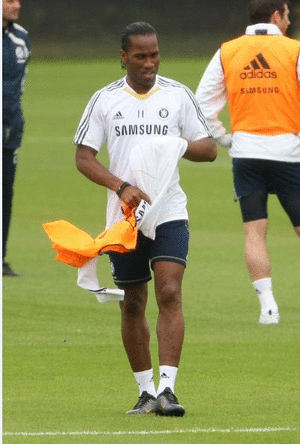 Football is one sport that fails to mask its athlete's age,if not for anything,it blows it out in the open for all comers to see.
It is not like Golf that someone can play into his 50's,here lots of energy is being exerted and you have to engage in constant running to still be at the top level of competition.
Made more difficult when footballers are now under the spotlight,with most fans calling for their retirements early even though they might not be contemplating calling it curtains.
So after each major tournament,you see some players in their 30's calling it quits,maybe because they feel they won't be competitive enough at the next World Cup or just for fear of being disgraced out of the national team.
There is a saying that "if you don't leave football,it will eventually leave you." It could be conventional wisdom to bow out when the respect can still be felt.
With the just concluded 2014 World Cup tournament in Brazil,some players will not be making an appearance when the World Cup comes again in 2018 on Russian soil.
Brazil must have seen the last of these Super stars who possibly will not be travelling with their countries in four years time.
So here,we tried to chronicle a starting eleven that will not be on the plane to Russia for the next World Cup.
Though some of them have not officially announced their retirement from international football,there is every tendency that they will not be at the World Cup.
By the way,some of them are World Cup winners already,so it is not as if they are bowing out not having won the adored title.
*Iker Casillas(Goalkeeper,Spain)
The Real Madrid goalkeeper had a horrible World Cup tournament to forget,especially during the 5-1 bashing by the Netherlands that he was at fault for some of the goals,doubts have arisen over the dependability of Casillas.
He is his country's most capped player at 156 and has enjoyed immeasurable success as national team skipper,starting from the 2008 Euro championship that Spain ended their long drought for a trophy.
But Casillas would be seriously considering giving in on international football,especially with the younger David De Gea proving that he could challenge him for that position.
Though goalkeepers tend to play on till their late 30's,such might not be the case for Casillas who is 33 and will be 37 at the next World Cup.
*Phillip Lahm (Right- back, Germany)
The 30-year old on Friday announced his retirement from international football,what better way to do it than after you have lifted the World Cup trophy.
Lahm,a versatile player across the defence,he can equally play at left-back and has had shifts in midfield.
By the next World Cup he would have still been in with a shout of making the Germany squad,but he has opted to bow out when the ovation is loudest.
Having made 113 appearances and scoring five goals,he would possibly would have gotten to even 150 caps if he had wanted it.
*Joseph Yobo(Centre half,Nigeria)
Former Nigerian skipper,Yobo announced his retirement from the national team immediately after the World Cup.
He is a typical example of players being retired by fans even when they might not have decided to hang up their boots.
Vilified by the fans and always hung out to dry for any defensive mistake,there was no doubting that he would retire after the World Cup tournament in Brazil.
At 33,you will understand why. The Fenerbahce defender said that he wants to make room "for younger players" to have an opportunity in the team.
Yobo is the most capped Nigerian footballer at 100 appearances,achieving the milestone in the 2-0 loss to France in the second round of the World Cup.
*Rafael Marquez(Centre half,Mexico)
It will be difficult seeing Marquez playing until he is 39 for the El Tri national team,although it cannot be ruled out.
An accomplished footballer,the former Barcelona player is a veteran of the World Cup and has played in four tournaments.
Marquez has won 124 caps for his country and stood out in their campaign in Brazil,though he gave away the last minute penalty that cost his team against the Netherlands.
He is a dependable defender,only time will tell if he will still be available at the next World Cup.
*Patrice Evra(Left-back,France)
It is possible that we have seen the last of the Manchester United(Juventus?) player at the a World Cup tournament.
At 33,there is certainly no guarantees that Evra will be playing on till the next World Cup.
Especially difficult when you have young players like Digne and Kurzawa making huge shouts to be considered.
Gael Clichy didn't even make the team to Brazil,and other left-backs will emerge to fight for a place.
*Andrea Pirlo(Defensive midfield,Italy)
Very graceful,looked every inch like the proverbial wine getting better with age.
It looked as though the 36-year old midfielder would have played on forever and never retire from the game.
But like every good thing,his international career and eventually his club career would one day come to end.
Pirlo with his good football knowledge and vision is one of the most complete midfielders to have played the game.
His good ball distribution is second to none,and his ability to pick a pass deep from the hole is legendary.
Pirlo has the ability to make other players look so inferior and the way he caressed the ball is something to admire.
He will definitely be missed in Russia at the next World Cup.
*Xavi Hernandez(Central midfield,Spain )
One of the victims of the ill-fated outing of the Spanish national team at the 2014 World Cup,Xavi emerged from the tournament with blemishes.
In fact the downturn in Xavi's game started being noticed in the cause of Barcelona's woeful campaign last season.
A player who hardly gives away a pass,Xavi suddenly looked too old and very pedestrian in his game.
That killer instinct passes became suddenly elusive and far from diminutive midfield maestro.
Little wonder that Barcelona are not looking out offering an extension to his contract with talks about a stint in the middle East all but signalling the end to his glorious career.
It most be noted that Xavi has been the heart of Spain's midfield in the last six years that they dominated World football.
*Steven Gerrard(Central midfield, England)
England are another country just like Nigeria who easily retires their players,even if they don't want to go yet.
The Liverpool and England skipper might have played his last World Cup for the Three Lions.
Though he has not made an official announcement about retiring,he is definitely going to follow in the steps of Frank Lampard and call it quits before Russia 2018.
As it is,England are subtly looking at grooming younger players like Raheem Sterling,Ross Barkley and others for the World Cup.
They have moved on from Gerrard and his likes,it will be difficult seeing him at the next World Cup tournament.
And the fans would look at the errors he made in their important game against Uruguay,and say that he cost them a chance in the next round of the tournament.
*Samuel Eto'o(Left-sided attack,Cameroon)
It is highly unlikely that the Cameroonian international will be making a return to Russia where he played with Anzhi when he moved from Inter Milan.
Eto'o hasn't retired,but it will be difficult seeing him play at the next World Cup tournament.
Cameroon had a bad tournament to forget and the Football Federation(FECAFOOT) will be looking at correcting their mistakes,of which they might deem Eto'o as one.
Factor in his huge influence on his teammates and you will understand while FECAFOOT would not want another revolt from the team.
Although he has sounded out his intentions of following in the footsteps of Cameroonian great,Roger Milla,it is difficult seeing him being picked,not to be ruled out though.
But with rumours of Eto'o being picked up by the country's security men on arrival from the World Cup,maybe they have grown tired of having him in the national team.
*Didier Drogba(Right-sided attack,Ivory Coast)
At 36,Didier Drogba has certainly had his last shot at the World Cup tournament.
There is no way he will be around at the next competition.
The events that panned out looked as though Drogba solely made the team to Brazil based on reputation and not on merit.
He was no longer starting games,and was used as an impact sub for the Ivorians at the World Cup.
Drogba has lost a yard of pace and he would even lose more come 2018,no two ways about it.
Currently his country's highest goalscorer,Drogba will forever have his name embedded into his country's folklore.
*Miroslav Klose(Center forward,Germany)
We have no doubt seen the last of the Lazio striker at a World Cup tournament in the future.
Klose,will be remembered until someone else breaks it,as the highest goalscorer of all times at World Cups.
Sixteen goals and the first person to it,Klose makes the team of players who will miss the next World Cup.
At 36,it is impossible that Klose would play at the next World Cup,certainly not when other younger German players eagerly awaits their opportunity.
It has always been in the scripts: "for Klose to get a shot at breaking the World Cup record of 15 goals previously set by Ronaldo De Lima.
He did not disappoint and took his chances when he got them to edge past Ronaldo.
***
So here we have it,our first eleven(playing in a 4-1-2-3 formation) whom the world may not get to see again at a World Cup game.
They have thrilled and entertained us,but they will be dearly missed on the global scene.