Former head of state, General Abdulsalami Abubakar (rtd) has sued for peace among the warring parties in the Southern Kaduna crisis.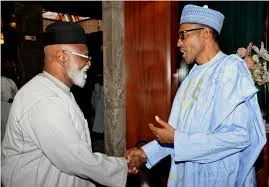 Abubakar made the call during a visit with other leaders of thought to the Kaduna state governor, Nasir El-Rufai on Friday, January 13.
After the delegation had a closed door meeting with Governor Nasir El-Rufai, General Abubakar (rtd) addressed journalists.
He said: "The Kaduna violence is something that can engulf the country, so we want to make sure that peace reigns in Nigeria, to make sure that people know that we are together.
"We have to live in peace with each other and we have what it is to give and take. We are reaching a situation in the country where human live doesn't mean anything to people and this is wrong."
General Abubakar (rtd) said he and the religious leaders would within the week meet with leaders in Southern Kaduna, adding that after their findings, they will come back to the governor and also if necessary to the federal government to find a lasting solution to the crisis.
"We will also visit the scene in Southern Kaduna where these problems are and discuss with the people. After which we will now sit down and see what we think should be done.
"Everybody is aggrieved in one way or the other. So what we beg on people is to be patient, try as much as to forgive and to be each other's keeper.
"We must live together, we must find solution to the problems to sit down and talk to ourselves because there is no problem that cannot be solved when you are talking to each other," he said.