A gang of eight robbery suspects, who allegedly carried out several operations in the Federal Capital Territory, Abuja were arrested by the the operatives of the Inspector-General of Police Special Intelligence Monitoring Team.
Until their recent arrest, the police noted that the eight-man gang had committed a number of murders and made large sums of money from their operations. From where the eight of them sat while they were being paraded, one could safely deduce that they were regretting whatever led to their arrest.
In his stunning revelation, one of the suspects, Johnson Aikko, who spoke to PUNCH, said he was a bricklayer in the Gwagalada area of the FCT before he was introduced to armed robbery by two friends; Ava and Nautical whom he met at a bar.
"I accepted gleefully because of the way I saw them spending money," he added.
According to PUNCH, the names of the other suspects were given as Ibrahim Suleiman, aka, Scorpion; Pius Gabriel, aka Double Spirit; the arms supplier, RaboYakubu; the receiver of their stolen goods, Oladimeji Ikotun; UmaruNda, Matthew Ofe, Nicodemos Shittu and OgbonaChidubem aka Oyibo.
He explained that he and the other gang members were operating with locally made revolver rifles until after the 2015 general elections when one of them was used as a political thug and was given two Ak47 rifle by politicians.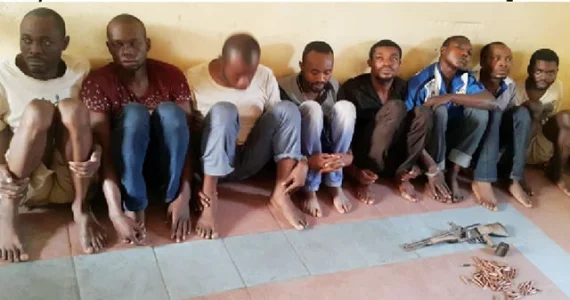 Stigma, 30, who hails from Benue State explained that the rifle they used in their first operation was sold to them by a policeman.
On hearing that some of the members had been arrested, Stigma said he took the Ak47 rifles in his possession to Jos where he sold them to a community leader who said he needed to them to protect their community.
"I sold the rifles to the community leader for N600,000 and I also bought 50 live ammunition from one Rabo who was supplying arms and ammunition to people in Jos. I didn't know how the police knew where I was, they stormed my house and apprehended me."
Police sources affirmed that the gang, armed with three AK47 rifle and four locally-made revolver rifles, carried out several high profile armed robberies around residential estates in Abuja, where they carted away, cash, exotic cars, jewellery, laptops and mobile phones.
READ More: PUNCH