A former minister of different portfolios and erstwhile governor of the Central Bank of Nigeria, Mallam Adamu Ciroma, has said that Nigeria is too small for Igbo.
In an interview with Vanguard, he said: "All over Nigeria you will see Igbos everywhere. If you go to Ghana, Igbos everywhere. If you go to Niger, Igbos everywhere. If you go to South Africa, Igbo everywhere; this Nigeria is too small for you. But now you want something smaller, what does it mean?"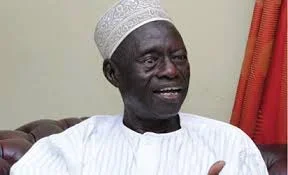 "It means that people sometimes do things without thinking very deeply. But education is to enable you to think and to solve problems."
What the Igbos are saying is that they want Biafra; I just remember only recently the Yoruba leaders said they want to break, break from where. The Yoruba are probably the people who economically enjoy Nigeria more than anybody, economically. So why are they going? So my own problem with Nigeria is that many people say things without thinking, he said.
Read
full interview