English singer and songwriter, Adele has endorsed Hillary Clinton as the next President of the United States of America.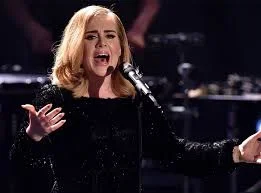 INDEPENDENT UK reports that, the 28-year-old Grammy-winning singer gave the endorsement last night while performing in Maimi.
Adele said, "I've got to be honest with you, i'm really glad i'm not an American at the moment, it's hard work.''
"I wouldn't know what to do, I mean I do know what to do - don't vote for him, that's all I'm saying."
"I support Hillary Clinton 100 per cent, I do."
"And for anyone else that wants to vote for him, I don't care, good for you, do whatever you want," she added. "I'm just letting you know who I would vote for".