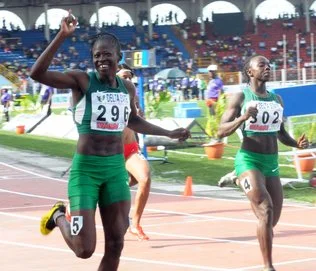 Team Nigeria over the weekend finished the African Youth Games on a high,placing third behind Egypt and South Africa in the championship held in Gaborone,Bostwana.
Nigeria clinched the overall third position,after amassing a total of 41 medals: 19 gold, 10 silver and 12 bronze medals.
It was an impressive outing for the Nigerian contingent who performed better than they did in the inaugural edition of the Youth Games held in Morocco in 2010.
Egypt emerged the overall winners of the competition,winning 45 gold, 17 silver and 30 bronze while South Africa trailed in second position with 41 gold, 26 silver and 29 bronze medals.
Most of the athletes will be representing their countries at the Youth Games taking place in Beijing.