he Inspector-General of Police, Ibrahim Idris, says if there is a need, he will appear before the Senate ad-hoc committee investigating allegations of abuse of office levied against him.
Addressing State House reporters on Friday after meeting with President Muhammadu Buhari, the IGP said he was discussing with his legal team over the issue.
"These are legal issues. We are discussing with our legal team. Obviously, if there is need, we are going to appear for the sake of having respect for the Senate. I will appear before them," Idris said.
Senate President Bukola Saraki had, at Senate plenary on Thursday, asked the IGP to honour the committee's invitation if he had nothing to hide.
The IGP was at the Villa to brief the president on the security challenges in the country and the November 18 Anambra State gubernatorial election.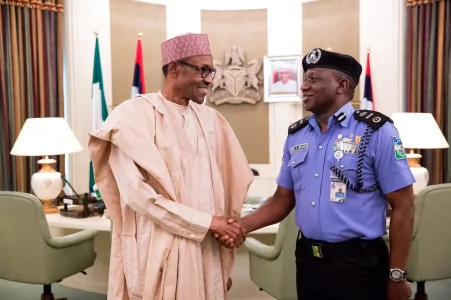 He said about 21,000 police officers would be deployed for the election, adding that: "We're deploying our water boats to take care of the water ways, we're deploring our helicopters to take care of the aerial surveillance and we're deploying our conventional police men and special police units to take care of situations on ground. And by the grace of God, we're going to have a successful and peaceful election in Anambra State."
He said several suspected kidnappers on the Kaduna-Abuja highway have been arrested and also commended the National Assembly for signing death penalty for kidnappers into law.
"We're taking them to court everyday. Presently, we have almost over 3,000 suspects in the various police stations all over the country and we're taking them to court," Idris said