The wife of the President, Aisha Bihari, on Monday paid an unscheduled visit to the State House Clinic in Abuja, a source informed Premium Times.
Recall that the Wife of the President, Aisha, had last week attacked the management of hospital for their inability to provide basic drugs and equipment despite billions of naira proposed for the hospital in successive budgets.
She said instead of providing badly needed essentials, the management chose to be constructing new building blocks.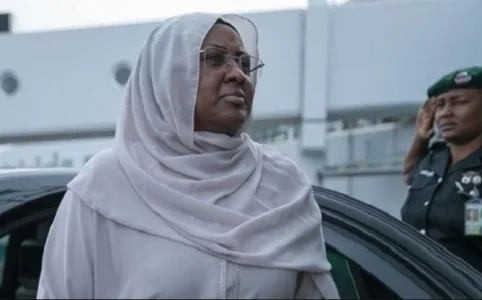 The Permanent Secretary in the State House, Jalal Arabi, however, in a statement on Sunday said the hospital received only N1.2 billion within the last three years.
Mrs. Buhari who arrived the hospital on Monday at about 2:30 p.m. was accompanied by some of her personal aides and was received by the Medical Director, Hussaini Munir.
A source, who was at the hospital told the online newspaper that when Mrs. Buhari's team arrived "the management took her round the Hospital showing her both the new and old buildings."
Our source also said Mrs. Buhari had a "short interaction" with some of the staff before leaving the complex.