President Muhammadu Buhari's wife, Hajiya Aisha, yesterday called on the Nigeria Army to ensure prompt payment of entitlements to the families of soldiers who lost their lives in the battle field.
Hajiya Aisha made the call when she visited the 44 Army Reference Hospital in Kaduna yesterday to see soldiers on admission who sustained injuries and are receiving treatment.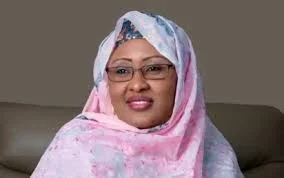 The President's wife, accompanied by the President of the Nigerian Army Officers Wives Association (NAOWA) who is the wife of the Chief of Army Staff (COAS) Umma Kalsum Tukur Buratai, and wives of other top military officers, visited all the wards where the wounded soldiers were admitted.
According to media sources, no journalists were allowed into the hospital wards to ascertain the status of the recovering soldiers.