Fighters from the al-Shabab group have attacked a base for African Union peacekeepers in southwestern Somalia, blasting their way into the compound and exchanging fire with peacekeepers, a Somali military official told Al Jazeera.
Dozens of al-Shabab fighters on Friday assaulted the military base, which is run by Kenyan troops who are part of the AU force in the town of El-Ade, not far from the Kenyan border.
"The troops are fighting the terrorists to push them back," Lieutenant Colonel Paul Njuguna, spokesman for the AU mission in Somalia, told Al Jazeera.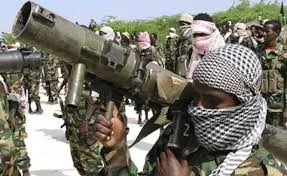 "The operation is still ongoing," Njuguna said.
The assault started with a suicide car bomb, and then heavy gunfire was heard as fighters stormed into the base, he said.
'Al-Shabab said their fighters killed dozens of Kenyan troops in the attack. However, Somali military has denied the claim.
"Everyone is familiar with al-Shabab's propaganda. They will claim that they have taken over the camp even though they have not," Njuguna told Al Jazeera.