One of the surviving Chapecoense players pulled from the wreckage of the Colombian air disaster which saw 71 people die, including 19 of his teammates, has taken his first steps since the crash.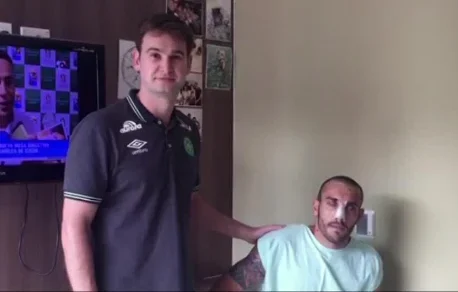 Alan Ruschel, the 27-year-old defender, was the first survivor to be rescued from the crash in Medellin and suffered multiple fracture.
He was transferred to Somer Clinic, one of the best hospitals in the area, and was filmed showing steady progress as he walked with the help of orthopaedic doctor Marcos Andre Sonagli.
The player recorded a video message where he gives the camera a thumbs up while walking, with the doctor confirming he hadn't suffered any damage to his spinal cord.
Ruschel, who played in the same youth team as former Manchester United defenders Fabio and Rafael, said: "I would like to tell you that I am recovering very well, I will soon come back to Brazil to finish my recovery.
"I would like to thank all of you, for the support given and by the vows of affection that I also received, I just wanted to thank everyone, thank you very much."
Doctor Sonagli added: "He's well, conscious and has not suffered a spinal cord injury... he has even walked."
The defender has made huge progress since his fiancée revealed last week that he was only able to "communicate with gestures at the moment".