According to Punch, an Islamic cleric, Ali Mohammed, has confessed to killing a 32-year-old graduate of Business Administration, Olufunbi Lawal.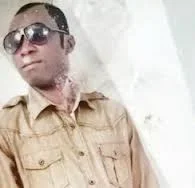 The suspect, who owed Olufunbi N32,000, said he killed the deceased in order to avoid paying the debt.
Mohammed said he arranged four other relatives, who killed him on Thursday on Olorunfemi Street, in the Oworonshoki area of Lagos State.
He said, "He (Olufunbi) sold a motorcycle to me for N40, 000 last month and I gave him N8, 000 with a promise to pay up before the end of October. But he kept disturbing me to give him his balance. I delayed in paying because the motorcycle developed some faults that also gulped the money I was to use to pay him.
"On that fateful day, I invited some of my relatives. We killed him in order to stop him from disturbing me."