Former governor of Rivers state, Chibuike Amaechi, has finally reacted to the judgement which nullified the election of Chief Nyesom Wike as the governor of the state.
Amaechi, who is also a ministerial nominee on Sunday reacted to Wike's loss in Port Harcourt alongside the governorship candidtate of the All Progressive Congress (APC), Dakuku Peterside.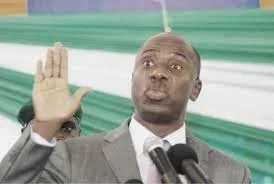 He spoke at a forum that those familiar with his political history know that things sometimes do not come easy.
"You can pay all the money you want to pay but if God says it is not your turn it is not your turn. It is God that gave the victory at the tribunal", Amaechi said.
While going rather spiritual, the former governor told the gathering to turn to Luke chapter 17, and reading from verse 11, he charged them with the story of one of the lepers who came back to express gratitude to God after they were healed of leprosy.