The Supreme Court of Nigeria on Friday nullified the elections of the senator representing Anambra South, Andy Ubah and his Anambra Central counterpart, Stella Oduah, over pre-election irregularities.
In a unanimous judgment, the court said the sacked lawmakers are to be replaced by Chris Ubah (Anambra South) and Annie Okonkwo (Anambra Central).
PDP members of House of Representatives from Anambra State were also fired.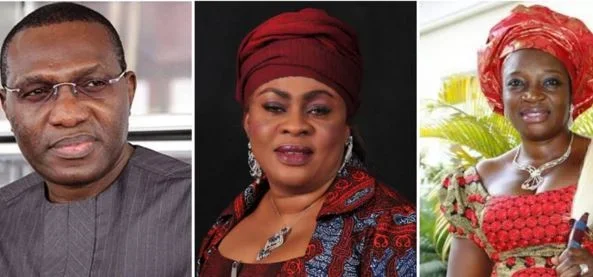 The reason for the Supreme's Court decision followed::
- an appeal by a faction of the PDP in Anambra State led by Ejike Oguebego, whose case for recognition as the authentic executive of the party in the state and therefore, the right organ to conduct primary election prior to the 2015 election, was set aside by the Court of Appeal early last year.
- Both factions of the PDP held separate primaries, but INEC accepted the list from the Akobundo faction based on the verdict of the Appeal Court and recognition given to the faction by the National Secretariat of the PDP.
- One of the counsels to the Oguebego faction, Chuks Chinwoba, informed source on Friday that even after the Court of Appeal ruled in favour of the other faction, the Oguebego faction went ahead to conduct primary election, "because they were sure they would come out victorious at the end of the day".
- Mr. Chinwoba said the Oguebego "faction held its own primary election on Saturday and Sunday December 6 and 7, 2014 and selected its candidates for Senate and House of Representatives.
The lawyer also said the primary election was "monitored by INEC which eventually issued a report on the election".
The Supreme Court, in its ruling, also re-affirmed the chairmanship of Ejike Oguebego as the authentic State Chairman of the PDP in Anambra State, declaring the list of candidates for various elective positions submitted by the other faction illegal.
By the unanimous verdict, the list of candidates nominated by Oguebego-led executive was the only one to be recognized by the INEC.
After the primary election of December 6 and 7, Messrs. Chris Uba, John Emeka and Annie Okonkwo emerged as the senatorial candidates for Anambra South, Central and North in the March 28,2015 general election.
Others, such as Anayo Nnebe, Obinna Chidoka, Lynda Ikpeazu, Emeka Anohu, Eucharia Azodo, Chris Azubogu amongst others picked the ticket for the House of Representatives.
By Friday's ruling, Senate President Bukjola Saraki and Speaker of the House of Representatives, Yakubu Dogara are expected to swear in the members nominated by the Oguebego faction of the PDP in Anambra State.
Source