The Anambra State Governor, Willie Obiano, has launched a helicopter for aerial surveillance of the activities of herdsmen in the state.
Governor Obiano said this during the Workers' Day celebration in Awka, the state capital, assured the people of the state that his administration had all it would take to prevent any attack by the herders.
Obiano said that before the growing menace of the Fulani herdsmen in the country, he had set up a special committee to foster peace between farmers and the cattle grazers in the state.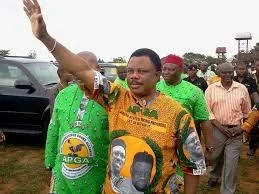 The committee, the governor noted, was made up of the leaders of the Hausa-Fulani community in the state, government officials, security agents and some representatives of agrarian communities across the state.
"This committee has made the herdsmen to pay compensation to communities whose crops were destroyed by their cattle seven times in the past. And we have also paid compensation to the herdsmen when one community breached the peace against them. That is the nature of our engagement with them in Anambra State", the governor said.
He warned that his administration would deal ruthlessly with the herdsmen should they become "needlessly hostile against their host communities."
- PUNCH