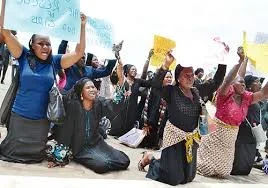 A mere three days after 63 women and children reportedly escaped from Sambisa Forest, the base of the deadly Islamist sect, Boko Haram, another 30 women and children have also escaped. A senior military officer gave a correspondent of SaharaReporters exclusive information about the latest escape.
The officer revealed that the escapees were mostly from Borno State and were abducted in a series of attacks by the Islamist sect. He stated that he was not in a position to comment on whether the escapees included some of the schoolgirls abducted by the Islamist terrorist group in a daring operation on April 14 that shocked the world and created global protests for the girls' return or rescue.
The officer said the latest batch of women and children who escaped from their abductors appeared in Madagali local government area of Adamawa State after wandering through forests for days. The location where the escapees showed up is a border area between Adamawa and Borno States.
Click here to read more
Source: #SaharaReporters