The Nigerian Tribune has reported that aides to the governor of Borno State have resigned their position to possibly pitch their tent with the former governor Sheriff.
Excerpts from Tribune
Political adviser to #Borno State governor, Kashim #Shettima as well as a Senior Special Assistant to the governor, Alhaji Yusuf Adamu and Nana Amina respectively have ended their relationship with the governor, with their decision to pitch tent with the former governor of the state and Borno political strongman, Senator Ali Modu Sheriff.
The decision of the duo to dump Shettima, according to sources, was due to Shettima's continued deteriorating relationship with Sheriff.
The Senior Special Assistant, Nana Amina, who was the younger sister to the Commissioner for local government and chieftaincy affairs, Honourable Baba Kaka Bashir Garbai told newsmen in Maiduguri that, "no one needs to be told which way the wind is blowing, because everybody in the state knows that the wind is blowing against the current administration."
Click here to read more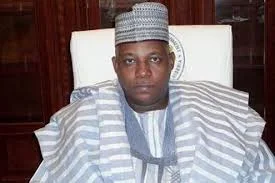 Source: #Tribune Newspaper