There is anxiety in Kogi State ahead of tomorrow's judgment of the Supreme Court on two separate appeals on the governorship election.
The two appeals were filed by former governor, Idris Wada and James Faleke, the running mate to the late candidate of the All Progressives Congress (APC), Abubakar Audu in the November 21, 2015 election.
Wada and Faleke appealed the decision of the Appeal Court which upheld the election of Yahaya Bello as governor
It was gathered that all those who mattered in the case have moved to Abuja together with their supporters.
Bello emerged governor after a supplementary election, following the death of Prince Abubakar Audu, the then flag bearer of the APC.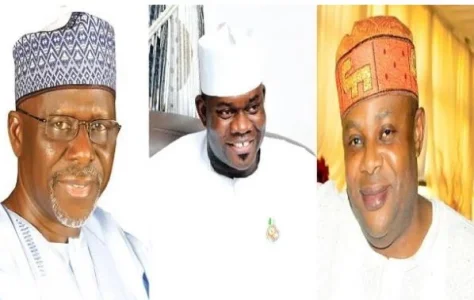 Faleke argued that as the running mate to Audu, he ought to have been declared winner.
On the other hand, Wada, seeking for a second term under the platform of the PDP, said that he should be declared winner because, among other issues, Bello went for the supplementary election without a deputy as stipulated by law.
The Kogi State Commissioner of Police, Mr Ibrahim Chafe, speaking in Lokoja, urged politicians and political party leaders to advise their associates and supporters to conduct themselves in an orderly manner before, during and after the Supreme Court judgment.
He said that the police, alongside other security agencies, would not hesitate to deal with anyone caught disturbing the peace of the state.
"From the intelligence information we have, all the two major political parties are consulting with their supporters to either express their happiness or otherwise," he said.