The All Progressive Congress (APC) in Enugu state has reacted to the transfer of Ejike Mbaka, a reverend father and spiritual director of the Adoration Ministry Enugu (AMEN), from Christ the King parish, GRA, Enugu, to lesser-known Our Lady Parish, Umuchigbo, Njinike, by the Enugu Catholic Diocese.
The party is also unhappy that Mbaka, a senior priest, has been "will be degraded to an assistant parish priest" at his new posting.
Mbaka moved out of Enugu on Saturday, describing his transfer as a witch-hunt and saying he would suffer at his new base, but he promised not to fight anybody as he was "welcoming the church's voice with absolute acceptance and obedience".
Related: Fr. Mbaka Speaks About His Transfer From Enugu Parish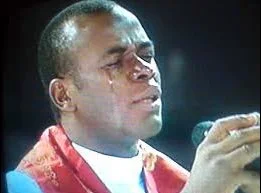 Defending the priest in a statement on Sunday, Osita Okechukwu, spokesman of the APC south-east caucus, alleged that the transfer was influenced by outside forces and expressed concerns over Mbaka's safety. "It is wrong to punish the fearless priest for his prophecies, which have proven to be from God," read the statement. "Whereas we accept that the transfer of priests is a routine exercise of the great Catholic Church, we do not wholly accept a situation where the church allows external forces to influence transfer as the Mbaka's case suggests, otherwise, future liberation clergy who speak truth to power will be hamstrung to the detriment of the society.
He maintained that APC remained in solidarity with the priest, observing that he had been under persistent attack from opponents of Muhammadu Buhari since prophesying that he would win the presidential election. He also accused the leadership of Ohanaeze Ndigbo of playing a role in Mbaka's transfer.
- TheCable