The All Progressives Congress, South West Zone, has released a statement banning Dino Melaye from coming to the zone following his recent attack on Senator Remi Tinubu where he threatened to beat her up and 'impregnate' her.
Ayo Afolabi, Zonal National Secretary, APC South West warned Melaye to regard the South West Zone as a no go area until he tenders a public apology to Mrs Tinubu.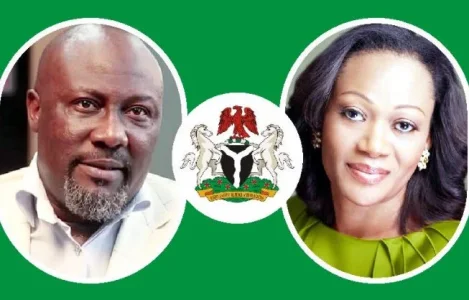 The statement reads in part
;
All Progressives Congress members (South West Zone) feel scandalized and traumatized that we are in the same political party with the likes of Senator Dino Melaye who was credited with using the sovereignty of the floor of the Senate Chambers to address Senator Oluremi Tinubu a Very Distinguished Senator and wife of our Leader Senator Bola Ahmed Tinubu in very rude, indecent and uncouched language.
We are surprised that any person elected into the Nigerian Senate could remind us of the often repeated lyrics "Vagabond in Power" by Fela Anikulapo Kuti at the Berlin festival performance. On the other hand, going by the antecedents of the undistinguished Senator Melaye, his current conduct in the Senate is predictable, he had "married" and divorced three women who all had stories of violence visited on them by him.
We call on the National Leadership and indeed the National Chairman of our Great Party, His Excellency Chief John Odigie Oyegun, to call the disgrace of a person in Senator Melaye, a wolf in a sheep's skin to order. From reports of his performance and activities in the Senate, this incident is typical of Dino's record. We wonder if Dino will not one of these days carry out his treat of beating up a Senate colleague.
We call on the Ag. Inspector General of Police Ibrahim Kpotun Idris to note the threat issued by Dino Melaye, that he will kill anybody who testifies against the accused persons in the Senate forgery case. We think Dino threat is not just running his usual verbal diarrhoea, but his outburst was a demonstration of the hatred he harbors for our Distinguished Senator Oluremi Tinubu. Meanwhile Senator Melaye should regard the South West Zone as a no go area if he refused to tender a public apology and desist from such unruly behaviours on any colleague from any party of this country in the future. A word is enough for the wise.