A bullion van driver has confessed to conveying the N1.219bn, which the Economic and Financial Crimes Commission alleged was delivered to the Ekiti State Governor, Mr. Ayodele Fayose, in the build-up to the June 2014 governorship election in the state, which Fayose won.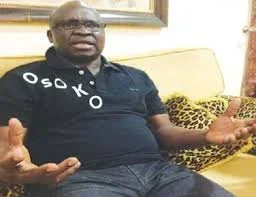 Fayose is being investigated by the EFCC for allegedly receiving the N1.219bn through the Office of the National Security Adviser for his campaign in 2014, an amount said to be part of the N4.7bn allegedly diverted from the ONSA under Col. Sambo Dasuki (retd.).
The bullion van driver, Mr. Olaoluwa Omotoso, reportedly drove the bullion van to the Akure airport tarmac on June 17, 2014, to transport the N1.219bn allegedly flown from Lagos by Obanikoro.
The driver told the anti-graft agency that part of the money was taken to a bank in Alagbaka, Akure, on the instruction of Fayose's friend, Agbele, while the remaining money was taken to Spotless Hotel, Ado Ekiti, which is owned by Fayose and his wife, Feyisetan.
A detective in the commission, who spoke to Punch correspondent on Thursday, said, "Omotoso explained that on June 17, 2014, he was given a directive to go to the Akure airport to convey some funds. He said he went to the airport twice to move the money. He said some of the money was taken to a bank while he, along with Agbele, moved the remaining cash to Spotless Hotel, Ado Ekiti.
"He said the money was moved in three vehicles, including one bullion van and two Toyota Hilux vans. The two Toyota Hilux vans had some soldiers inside for security while Agbele was with him in the Hilux van.
"He said he did not know exactly how much was conveyed. He explained that Agbele held the keys to the vault in the bullion van. On getting to Spotless Hotel at night, they offloaded the cash and Agbele entered the vehicle to search and ensure that no money was left behind. Agbele then returned the keys and Omotoso drove off."