Troops of 27 Task Force Brigade of Nigerian Army have arrested three senior members of the Boko Haram insurgents on the wanted lists in
Yobe state.
Briefing journalists at a news conference in Damaturu on Thursday, the Commandant of the 27 Task Force Brigade, Col. Dahiru Bako disclosed that one of the suspects was arrested in Jakusko Local Government Area, while the other two were napped in Damaturu, the state capital.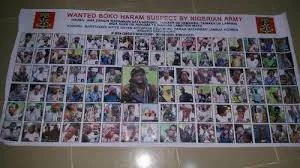 His words: "The current onslaught on the militants within the state and the entire north east is succeeding as major camps of the insurgents have already been destroyed; as efforts are intensified by security forces to move further into their hideouts to dislodge them in Sambisa, Gujba and Sasawa forests."
He said that the initial plans of the military to close weekly markets were carried out in order to reduce the activities of the insurgents by cutting off their logistic supply, pointing out that the militants normally buy all their needs on weekly market days
He therefore appealed to the people of the state to partner security operatives by identifying and fishing out the insurgents who are on
the run.