Obiageli Ezekwesili, leader of the Bring Back Our Girls (BBOG) movement, says the military has "triumphantly" announced the killing of Abubakar Shekau, leader of the Boko Haram, on four occasions yet it hasn't managed to rescue the abducted Chibok girls.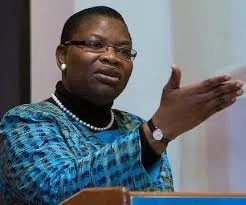 On Tuesday, the military said an unprecedented and spectacular air raid "fatally wounded" Abubakar Shekau, Boko Haram leader, in his shoulders.
In a march to the presidential villa on Thursday, the BBOG movement said time had completely run out and a decisive action was needed to rescue the abducted girls.
"Another key issue in the last 72 hours is the military's announcement that Boko Haram leader, Abubakar Shekau, was fatally wounded during air raids," Ezekwesili said.
"We want it on record that this is at least the fourth time the Nigerian state has triumphantly announced killing this fellow.
"Today, day 864 since the abduction of our girls, time has completely run out. It is time to take decisive action and bring them home. No more delays."
She said the group could no longer sit and watch humanity debased.
Yakubu Enoch, father of the abducted girl identified as Dorcas Yakubu, who spoke in a recent video clip released by the insurgents, lamented that President Muhammadu Buhari had refused to listen to the parents of the abducted girls.
"As it happened to Chibok it can happen to any place. If Buhari feels he cannot work, please let him release us. Let him get down and give it to somebody."
Source: The Cable