Arsenal have cancelled this summer's Emirates Cup due to the extended Euro 2016 schedule and planned reconstruction to the stadium's pitch.
It's a big blow to the Gunners and their fans with the pre-season tournament a regular confidence-builder ahead of the new Premier League campaign, with Arsenal winning four of the eight editions.
This summer marks the second time the Emirates Cup has postponed since the inaugural tournament in 2009, with the London-hosted Olympic Games in 2012 prompting a similar situation.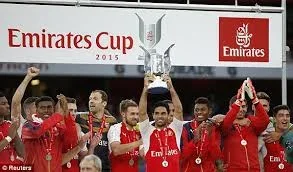 "We know how popular the Emirates Cup is with our fans here in the UK and around the world, so we are disappointed that we will not be hosting it this summer," chief executive Ivan Gazidis said.
"The shorter pre-season window and the need to relay our pitch has resulted in this decision being taken. We look forward to hosting the tournament in 2017."
Fans have vented their anger at the postponement of the biggest weekend in Arsenal and Gunnersaurus's sporting calendar as the best chance of seeing silverware lifted by Arsene Wenger & Co. goes up in smoke.