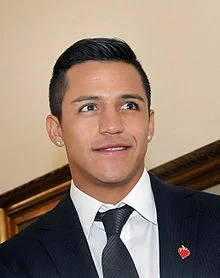 Arsenal has gotten their first summer acquisition after completing the signing of Chilean Alexis Sanchez from Barcelona.
Sanchez signed a long term contract with Arsenal in a deal worth around £35million.
The 25-year old was under the radar of Arsenal manager Arsene Wenger who scouted him at the 2014 World Cup in Brazil where he scored two goals.
"I'm so happy to be joining a club which has a great manager, a fantastic squad of players and huge support around the world," Sanchez said on his move to Arsenal.
"I'm looking forward to playing in the Premier League and Champions League."
On why they moved for him, Wenger said: "As many people have seen during the World Cup this summer, Alexis is a fantastic footballer and we are delighted that he is joining us.
"Alexis will add power, creativity and much quality to our squad and we are all looking forward to him joining up with us in a few weeks.
"He has consistently produced top-quality performances at the highest level for a number of seasons now and we are all excited to see him integrate into the Arsenal squad."
French right-back Mathieu Debuchy,is the next player expected to follow Sanchez to Arsenal, with a deal set to happen before the end of the week.
Photo Credit: Wikipedia