Zimbabwean President Robert Mugabe told the United Nations (UN) that the continent will fight for its own identity, integrity and personality.
African leaders also called on the United Nations to reform the Security Council by making African nations its permanent members.
The call was made through its (AU) outgoing chairman, President Robert Mugabe, in Addis Ababa, Ethiopia, at the commencement of the 26th Ordinary Session of the Assembly of Heads of State and Government of the African Union, with the theme "2016: African Year of Human Rights, with Particular Focus on the Rights of Women".
He maintained that if the United Nations must survive, African countries must be equal members of the global organization, stressing that "there should be real uniformity in the UN Security Council".
Mugabe, whose speech ignited a round of thunderous applause from his colleagues, asked Mr Ban to tell the United Nations that Africans are not ghosts, but humans who also belong to the world.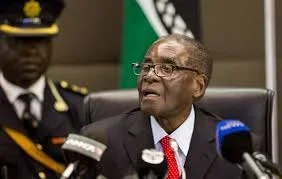 In a veiled reference to Mr Ban's call on African leaders to respect constitutional term limits, Mugabe, who has been ruling Zimbabwe since 1980, said the only thing "the imperialists" were persistently preaching to Africa was regime change.
Mugabe decried that the imperialists are still everywhere in Africa "if not physically, but through spies and pretenders who come to us and say they are our friends. What else is coming from them? Regime change!"
He said: "Mr Ban Ki Moon, we are independent nations and we are supposed to be free. We go to the UN General Assembly every September. We pay a lot of money to the UN year in year out, but the body in the Security Council says we shall never have the power they have. Reform the Security Council!
I want to tell you, Mr Ban Ki Moon, that you are a good man, but of course, we can make you a fighter. We shall fight a fight for our own identity, integrity and personality as Africans. If we decide, as we shall certainly do one day, that we cannot continue to be artificial members of the United Nation."
"If the UN must survive, we must be equal members of it…We have said that we have to be permanent members (of the UN Security Council) with a veto power, if the veto must be retained. Mr Ban Ki Moon, tell them (the UN) that we are also humans and not ghosts. We also belong to the world.
- DailyTrust