A Federal High Court in Abuja was told yesterday how former Chief of Defence Staff Alex Badeh allegedly deployed public funds to acquire N320 million house in Abuja for his 28-year-old son, Kam.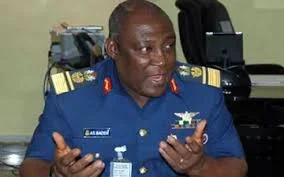 The revelation was made by Aliyu Yisahau who served as a Director of Finance and Account of the Nigerian Air Force while Badeh was the Chief of Air Staff between September 2012 and December 2013.
Badeh and the firm, Iyalikam Nigeria Limited, were arraigned on March 7, 2016 on 10 counts of money laundering involving alleged diversion of about N3.97bn from NAF's account.
While being cross-examined by Badeh's lawyer, Chief Akin Olujinmi (SAN), Yisau, said the N320m house was the second landed assets acquired in Wuse 2, Abuja by the former Chief of Defence Staff for his children.
He said the first located at No: 19 Kumasi Crescent, Wuse II, Abuja was bought for Badeh's first son, Alex Badeh (Jnr) at N260m. Kam is said to be Badeh's last son.
He said N60m was spent to renovate the property worth N260m, while N90m was expended in furnishing the property.
Yishau said the second house, which was bought at N320m for Badeh's last son is located adjacent to the one bought for Badeh's first son.
When asked how he came about the information, the witness said he paid for the houses from the N558.2m taken monthly by Badeh from NAF's funds.
The trial judge adjourned further trial till May 9