An autopsy was on Thursday conducted on the corpse Ronke Shonde to ascertain the exact cause of her death.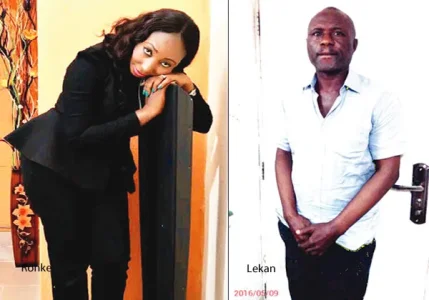 Pathologists at the Lagos State University Teaching Hospital declined to make the result public.
According to PUNCH, the alleged lover of the victim, Kayode, had been invited to the State Department of Criminal Investigation, Yaba, to make statements to assist the police with investigations.
Kayode and Ronke worked in the same publishing firm belonging to the latter's uncle.
Lekan, the deceased husband had claimed that Kayode slept with his wife in a hotel in Abuja while they both went to recruit workers for the new office of the company.
A source close to Kayode said he had promised to honour the police invitation by next week.
"He should be here next week to state his own side of the story and assist with investigation," he added.
PUNCH correspondent was told that the medical team at the LASUTH conducted the autopsy on the deceased on Thursday.
A source, who did not want to be named, said the result would be out on Tuesday.
She said, "The test was conducted today, but we have been told to wait for the result, which will be ready in five days' time. The corpse of the victim cannot be released until then, so the family will have to suspend all burial plans for now." She said.
Source: Punch