Kaltume Ibrahim Mai-Kaji and Aminu Ali had spent several years dating before they eventually got married in 2013 in Kano State, when she clocked 15 years. Surprisingly, after they got married, Kaltume refused to allow her husband have sexual affairs with her.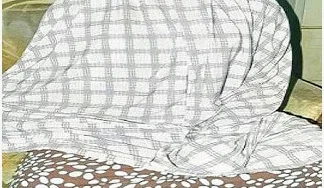 Anytime she was invited to bed she would decline. Ali had severally complained about his wife's attitude to his parents, but each time, he would be told to exercise patience.
He was always advised to intensify prayers and give his wife sometime to adapt to her new environment and social status. In his quest to solve the problem, Ali had tried several herbs on his wife, but all in vein. Kaltume never slept with him throughout her stay with him.
After several unsuccessful attempts, Ali sought the intervention of his father-in-law, Mallam Ibrahim Mai-Kaji, who administered many herbs on her, but there was no improvement.
Finally, her father invited one Mallam Shu'aibu Wanzam, a local barber, to circumcise Kultume, thinking that it would solve her problem. Unfortunately, in the process of circumcizing her, Wanzam removed a portion of her private part.
As a result of this, she can no longer urinate like a normal person. The 19-year-old Kaltume currently urinates through a tube that was carefully strapped above her sex organ, which medical doctors confirmed was completely damaged.
When the case was reported to the Emir Sanusi, he summoned the affected family and the ward head of the area to his palace on Monday, March 27, 2017.
When Kaltume's ordeal was narrated to him, the emir wept and cursed those who contributed to her condition. He also sacked the ward head for allowing genital mutilation in his area of jurisdiction.
"I have directed the Commissioner of Police to arrest Wanzam and whoever had a hand in this heinous crime. They will be punished. If the commissioner fails to do something, I will personally petition the I.G of Police. I will follow this case to its logical conclusion," the emir stated
See her photo below:
Source: Daily Trust